Etudes N°21 SS23 : Périphérie
After celebrating a decade of creation with an introspective chapter, the Études Spring Summer2023 collection unveils a new era of Études' identity.
As part of the brand's experimental journey, thefounding trio will henceforth choose a specific location as the first step of creation, breathing newlife into the anchoring of its signature silhouette. Taking its roots in a lesser-known Paris, far fromclichés, the collection is imbued with the Petite Ceinture (Little Belt) references—a thirty-kilometerrailway circling through the city. Between train tracks and greenery, Études' first post-pandemicshow will take place in its renovated part of the 19th arrondissement, with models walking on therails and guests watching from the platforms.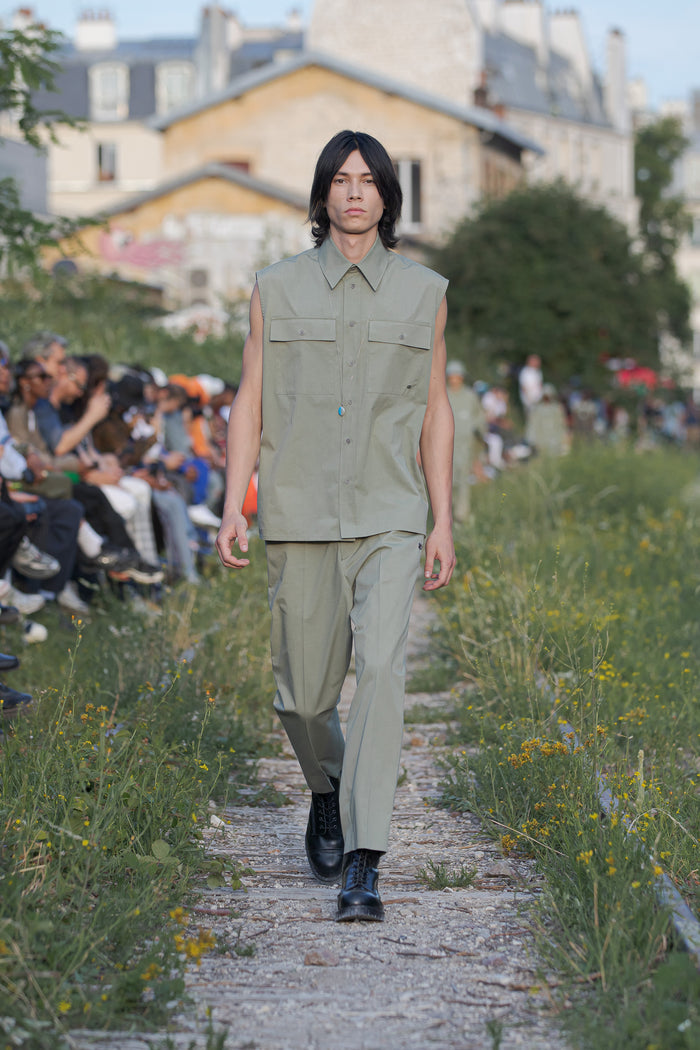 On the border between inner and outer Paris, the Études Spring Summer 2023 collection drawsits inspiration from the abandoned industrial heritage, recalling the world of workers in theiruniforms, the wild plants that grow between the deserted rails, but also a field of exploration ofthose subcultures. Staying true to its stylistic imprint, the Études wardrobe combines workwear'sfunctionality and patina with formal garments of meticulous detail.
Carpenter's trousers and classicshirts, jumpsuits and suits, multi-pocket work jackets and trench coats: the collection fuses thearchetypes of both worlds to create the brand's signature relaxed, contemporary silhouette.
Symbolic of the Études' hallmark, the utilitarian wardrobe is embodied by raw materials such asdenim and cotton canvas as well as diamond-shaped logos. Reminiscent of the Petite Ceinture, thecolor palette spans from redwood to pale green and brown to grey-beige, as if faded in time. Existing volumes reinforce Études' signature take on French tailoring with subtle shapes: an Italian light woolflannel coat with airy lightness, trousers with detailed darts and a checked suit jacket.
The Études eyewear collection sees a new take on four sunglasses handcrafted from acetate, withdistinctive oversized frames.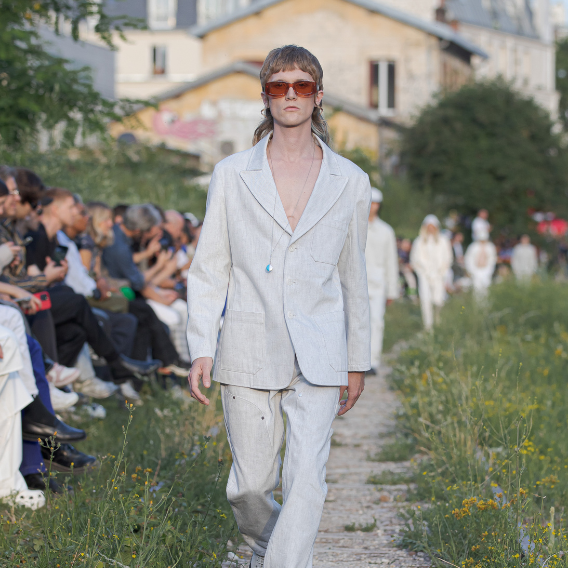 A collaboration with the French painter Jean-Baptiste Bernadet sees a suite of garments reflectinghis sensory work with color celebrated with two quasi-impressionist paintings inspired by rustymetal, camouflage motifs, and variations of light. The two abstract pictorial explorations by the Brussel-based artist are used to dress several pieces, including a suit jacket with raw edges patchesand a jumpsuit with sophisticated details.